"RestOration: Kalfarlien 18" Installed in Bergen, Norway at "Ends of Electronic Literature" Media Arts Show August 5-28 2015
What does an e-waste sculpture have to do with a 100 year old villa on Bergen's Kalfarlien street on the slope of the mountain Fløien?
See our description on the "End(s) of Electronic Literature" Festival site.
Read the hypertext poem and view the documentation site here.
"RestOration: Kalfarlien 18" is a digital art installation in four parts: an interactive e-waste sculpture, a soundscape, a tablet game and a hypertext poem. All are inspired by the villa Kalfarlien 18, where the four women artists met.
Guests enter the installation. Sound from Eva Pfitzenmaier's haunting soundscape emanates from the library shelves and the LP turntable playing sounds of wind and rain. A web kiosk features the ecopoem "RestOration," which features the poems of Alicia Cohen and the prose of Kathi Inman Berens. Kathi built the hypertext, which allows readers to navigate branching paths. An audio track of the poets reading is "Echo" to the "Narcissus" guests become as we see ourselves in the pool of e-waste. The sculpture makes visible what we throw away.
We artists juxtapose the "remodel" culture of quickly "obsolescent" technology against the "repair" culture of the gently decayinig Kalfarlien 18. We in the global north throw away machines and literally "remodel" — buy the next iteration of the device. Those discarded devices and peripherals are dumped at gigantic e-waste sites in the global south, 80% of the time illegally. Children melt the precious metals from the machines and incinerate the west. Photographer and activist Valentine Bellini [http://bitrotproject.com] has called it a "toxic inferno."
Anastasia Salter featured "RestOration: Kalfarlien 18" in her "Ends of Electronic: A Report from ELO 2015" in The Chronicle of Higher Education.
Collaborative Art: "Outsource My Study Abroad!"
FALL 2014
Study Abroad in a City Just Like Yours!™ Collaborating with the students of Rob Wittig at the University of Minnesota Duluth, my students at the University in Bergen (Norway) created "Outsource My Study Abroad!" a locative story set in Bergen and Duluth. Students "visited" each others' cities via street view in Google Maps and picked seven locations they wanted to "explore" via the local students. Pinning site-specific questions to the maps, students in their native city posed in photos that the abroad students had asked for and wrote captions that "made memories" virtually. The Tumblr where all the photos & captions are housed is a database of "memories" that individual students then remixed into their own unique "study abroad" experiences.
Outsource My Study Abroad! database of Bergen and Duluth students' expeditions.
Sample individual "Abroad" Remixes
—Global. Whole. Hearty.
—Study-Hubby Abroad in Bergen
—My Semester in Duluth
—Piet's Abroad Experience
Duluth students' requested expeditions in Bergen
Bergen students' requested expeditions in Duluth

Disperse the Light Media Arts Show
SUMMER 2014
I curated "Disperse the Light," a large, international show of 50 new electronic literature works at the University of Wisconsin Milwaukee June 19-22, 2014. I also produced for that event three Evenings of Performance, two Media Arts demo sessions–hands on play with the works and conversation with the artists–a series of "Artists' Talks," and a Gallery of E-Lit First Encounters featuring work by emerging authors in the field.
Video Documentation
Media Arts Gallery
Huffington Post review

Tournedo Gorge
Tournedo Gorge has been selected for inclusion in the forthcoming Electronic Literature Collection Volume 3
SUMMER 2012, WINTER 2013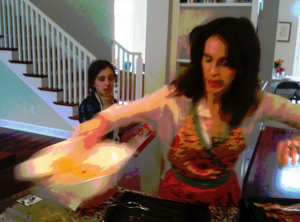 Alimentum: The Literature of Food published "Tournedo Gorge," my poem about cooking and coding, which mashes up the language of cooking with the language of JavaScript, the computer source code that makes the poem run. The code is a slightly modified version of Nick Montfort's Taroko Gorge. It was also exhibited Dec. 7-29, 2012 at the Nouspace Gallery and Media Lounge in Vancouver, Washington as part of the Ars TechnoLOGIKA show. Photos from the exhibit are here.
FALL 2014
Subsequently I taught my students how to make their own
Taroko
adaptations. Here are some exemplary student works.
Silje F. dramatized the late, tense years of Scott and Zelda Fitzgerald's marriage by staging quotations from The Great Gatsby and Save Me the Waltz as an accusatory dialogue. This is a savvy use of the generator, because the dialogue rarely (if ever) repeats, which imparts the feeling of not being able to escape the bad marriage. The watercolor art in background is Zelda's. When Silje's friends told her the poem was beautiful, she added a jarring audio track to evoke the distance between the Fitzgeralds' beautiful appearance and shattered marriage.
Patrick D., who had never worked with JavaScript before this class, eliminated lines of code to see how the output would render. Playing around, Patrick reduced Scott Rettberg's Tokyo Garage to one outputted line and tinkered with it to exaggerate its overlap: brilliant of Patrick to see in the bold yellow letters a visual poem of Tokyo's skyline.
Anders G's "Take Gonzo" re-situates the landscape poem into a Panoptic, NSA-world where words are redacted and censored; the only alternative for secret communication is to write in a coded language, which he invented as graphical elements that run across the top of the page. Mouse over some of the generated lines to see lines being redacted. The list of previous Taroko-adaptation authors on the right of the screen is a source text to decode the message written in a secret language across the top of the poem.
Clara M, a journalism major from Spain, says she loves movies but can never remember them, so she remixed famous recognizable lines into one endlessly generating mashup, often with funny results.

Curating E-Lit at the Library of Congress and at MLA Conventions
SPRING 2013
Spine Poetry: Student-Made National Social Media Campaign

2-minute project description tells people how to use books to make "electronic" literature. Forging a connection between the Library of Congress's main asset — books — and the digital and virtual contexts of electronic literature, the four students and two faculty (me and Jesse Stommel) came up with the perfect campaign to bridge the book world to the digital for this historic Electronic Literature Showcase.
In 2012 and 2013, we installed shows of e-lit at two annual conventions of the Modern Language Association, the professional body of languages and literature professors. The 2013 show, "Avenues of Access," explores MLA's Presidential Theme by asking, effectively, why gather face-to-face to read and experience e-literature when access to most of the works is perpetual in browser? We believe the communal, social experience of interacting with electronic literature offers a new experience of "reading" that differs from the immersive and isolated experience of reading a book. We wanted professors to experience this new mode of reading with narratively and functionally compelling works that demonstrate the multi-sensory possibilities of reading new media works. In addition to featuring thirty new works of e-lit, the "Avenues of Access" installation will feature two Creation Stations where guests can interact with e-lit artists, run a maze on a Commodore 64 from 1982 and learn about the extrafunctional significance of the one-line BASIC program that makes it run, and even remix their own algorithmic poems.
For the 2012 show, I curated Mobile and Locative works. My curatorial statement, "Toward a Mobile and Locative Aesthetic," was published in Rhizomes 24. Mobile works are those designed for and accessed via a smart device. Usually one loads such works as an app. "Locative" means stories pinned to precise geospatial location, often using a map as the organizing device. Locative stories enable us to inhabit the physical spaces in which stories are set. Is such an experience more immersive than reading remotely and traveling to the storyspace exclusively through imagination? I've taken my students out into the field to explore locative literature on-site, and in practice the experience shatters our attention as consciousness shuttles between the literary and actual landscapes. My forthcoming ebr article, "Racism is Always-On: L.A. Flood's Procedural Rhetoric," uses this field test as the starting point for an inquiry into virtual & embodied double consciousness and DuBoisean Double Consciousness.